Liisa Ramsey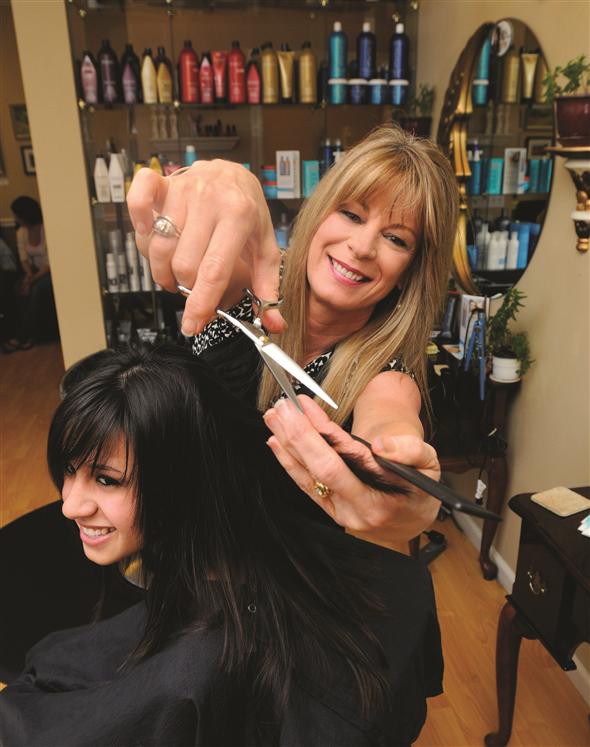 I started my career as a stylist in the Bay Area town of Los Altos. I thrive on teaming up with my clients to create a style that they love and that works with their hair texture and face shape. Choosing a hair color that compliments your skin tone can make you glow! I think finding a look that fits into your lifestyle and that you can manage at home is just as important as how it looks in the salon. I also enjoy working with my clients for those occasions that deserve a special look; be it a wedding or a special night out. I'm proud to be the owner of Echelon Salon, and proud that Echelon's clients have chosen Echelon as the Best Salon in Folsom numerous times in every media reader's poll in the area.

*Folsom El Dorado Hills Telegraph Best Hair Stylist 2001 2002 2003 2004 2005
*Folsom El Dorado Hills Style Magazine Best Hair Stylist 2006 2007 2011 2012
*DevaCurl Inspired Stylist
*Keratin Complex Certification
*Sassoon Certification Diploma
*Advanced Master Styling Course Farouk Systems
*AmericanCrew Clipper Course Certification
*Pureology Advanced Training Certification
*Framesi Advanced Color Clinic
*Framesi Certified Advanced Color Technician Educator
*Framesi Advanced Art of Professional Hair Fashion
*Framesi Advanced Pigment Art and Color Correction Certification




Angel Soderquist-Payne
My passion for hair and beauty started as a little girl. In 2001 I began to make my dream a reality by attending Je Boutique Beauty college and becoming a licensed Esthetician. I worked as a skin care specialist and makeup artist in L.A. and Beverly Hills. In 2007 I pursued my real dream...hair!!. I attended Elite Academy and graduated the top in my class. Hair just came naturally to me. My education includes Vidal Sassoon Academy London, England; Color Certification with Framesi, Goldwell and Pravana; Certification in the application of extensions (Cinderella hair, I-tips, Shrink Links, Tape-in, braided tracks etc.). When I'm not busy working behind the chair you can find me on location doing hair styling, extensions, and make-up for weddings and fitness competitions. My work has been featured on the covers of top magazines "Fitness RX" and "Oxygen Magazine". I feel truly blessed to be apart of this industry and to have my DREAM JOB. Due to being a new mom, my temporary schedule is Monday, Wednesday, and Saturday from 8am to 8pm with other days and times by appointment only. Appointments are strongly recommended.
Jessica Evans
I've always had a passion for hair, from styling my friends hair for dances to constantly braiding or coloring my own in high school. Nine years later I am proud to say I'm still at it and couldn't be more grateful. Hair has always come easy to me so I'm constantly trying to challenge myself by taking classes and updating my techniques and knowledge to give my clients the best service I can. Along with being Keratin Complex Certified, I'm a Framesi Color Elite stylist. I do many types of extensions including Cinderella hair, I-tip shrink links, and tape extensions. I have recently expanded my repertoire; doing hair for photo shoots and fashion shows, And finished a styling academy with Aquage in 2012. It's been a wonderful nine years and I'm excited to see where the next nine take me.
I'm in the salon Tuesdays, Thursdays, Fridays, and Saturdays. Sundays are available for special events, photo shoots, and weddings.
Mary Hargon
I specialize in precision cutting for both men and women, with an artistic vision and attention to detail. I have been trained in both the cutting techniques of Vidal Sassoon and the JHS French techniques, and I am constantly working hard to expand my repertoire even further. I'm a Certified Framesi Hair Color technician as well; creating natural looks that, along with a perfect cut, compliment one's skin tones and face shape. Helping my clients feel welcome and comfortable is of the utmost importance to me, and I feel that I've found the perfect environment for that!
Olivia Elliott
I love being able to help a client's hair dreams become a reality. I developed a passion for hair as a little girl, teaching myself different braids and playing with my mom's hair. I turned that passion into a career and I am so in love with what I get to do everyday! I truly love everything about being a stylist; highlights and men's cuts are among my favorite things to do, but I also enjoy bridal and formal styling as well. I am continually furthering my education to stay up with trends and techniques and I can't wait to see what the future holds.